When you're experiencing the pain of arthritis, probably the last thing on your mind is moving your body. If you're aching all over, being active is only going to make it worse, right?
That sounds logical. But evidence shows that frequent and ongoing movement is the best medicine to help reduce pain, stiffness, and inflammation from arthritis and related conditions. Getting into a regular walking routine has all sorts of health benefits.
In the Arthritis Foundation's latest patient-reported outcomes study (Live Yes! INSIGHTS), it's clear that walking is a major challenge arthritis patients face.
62% of respondents said they either could not go, or had difficulty going, up and down stairs at a normal pace.
49% reported they could not walk at least 15 minutes or had difficulty doing so.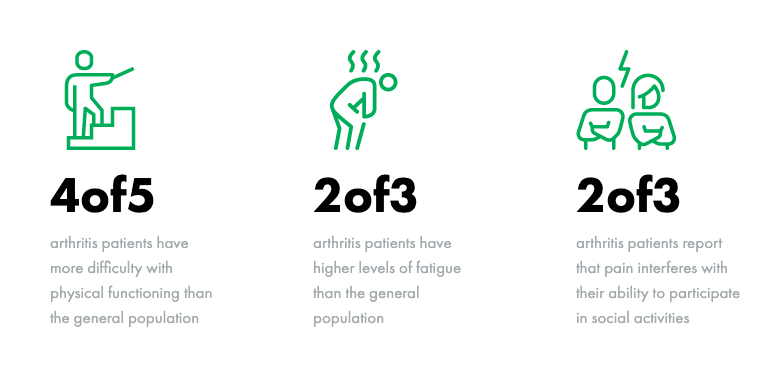 Get help to walk your way
To help people with arthritis get moving — geared to your personal needs, limitations and goals — the Arthritis Foundation offers the six-week Walk With Ease program, which comes in two formats: either in an instructor-led classroom or self-directed at your own pace, safely and comfortably. More than 10,000 people participate in the program annually.
Endorsed by the Centers for Disease Control and Prevention (CDC) and other experts — and co-developed with the Thurston Arthritis Research Center and the Institute on Aging of the University of North Carolina, Walk With Ease is a proven and trusted program that can help you lose excess weight, reduce stress on joints, increase confidence around movement and improve balance and arthritis symptoms. Through Walk With Ease, you can get miles ahead toward a healthier you.
"When I started the program, I was afraid to walk very far because of my knee pain. But Walk With Ease helped me start slow and build up gradually," shares one participant. "Now I am confident in my ability to walk easily without making my arthritis worse."

A new, free pain management app to help you along
The Arthritis Foundation's new Vim app helps make getting into motion even easier. This unique pain management app will help you set walking or other goals you have — and track your progress. At your fingertips are more tools and resources to help you along the way. Plus, you can connect with others who'll cheer you on … and who you can encourage in turn on their journeys.
And if you're an older adult living with arthritis, sharing your experiences regularly is something you can do to improve lives today and change the future of arthritis. The Arthritis Foundation offers you an opportunity to take part in a survey (you can also watch the video below). Your insights will lead to more effective care for adults living with arthritis, develop programs that meet your community's needs, and shape a powerful agenda that fights for you.