Key Takeaways
April is Parkinson's Awareness Month. Take time to check in with your care team, call the Parkinson's Foundation Helpline, or impact the future of Parkinson's Disease (PD) by participating in research.

Parkinson's disease has movement and non-movement symptoms. If you have more than a few of the early Parkinson's signs, don't delay making an appointment to talk to your doctor.

With early detection, treatment, and expert care, you can live a long, productive, and meaningful life with Parkinson's.
The first step to living well with Parkinson's disease (PD) is to understand the disease and the progression. For example, according to the National Institute on Aging, while both men and women can have PD, the disease affects men about 50% more.1 And did you know that one risk factor is age? Even though most will develop Parkinson's around the age 60, about 5-10% of people with PD have "early-onset" disease, which often starts before he age of 50.1
But what else do we know about Parkinson's, how can we help older adults understand their risk, and how can a person increase their chances of living a good life with PD.? To help spread Parkinson's awareness, below are the answers to the top questions the Parkinson's Foundation receives about PD.
What is Parkinson's disease?
Parkinson's disease (PD) is a neurological disorder that progresses with symptoms typically developing slowly over several years. PD occurs when the cells in the brain that produce dopamine start to die. Dopamine is essential to movement and coordination. Less dopamine in the brain results in various symptoms, which progress differently for everyone.
Is Parkinson's disease genetic?
Up to 15% of all Parkinson's is caused by genetics.2 Scientists are still working to understand why some individuals develop PD and others don't. Researchers believe that Parkinson's is caused by the combination of genetics, environment, and lifestyle influences. The biggest risk factor for Parkinson's is age. Approximately one percent of people over the age of 60 are living with PD.2
Does Parkinson's only affect movement?
People with Parkinson's can experience movement symptoms and non-movement symptoms. Though movement-related symptoms, like tremor, are most recognized as a hallmark symptom, some non-movement symptoms such as loss of smell, constipation, depression, and sleep disorders can actually occur years before a diagnosis.
What are the early signs of Parkinson's?
Parkinson's is an extremely varied disease. No two people experience PD in the same way, which can make it difficult to tell if you or a loved one's symptoms are Parkinson's-related. In fact, symptoms are often misinterpreted as normal signs of aging. The Parkinson's Foundation identified 10 early signs of PD. No single symptom means you should worry, but if you have more than a few, consider talking to your doctor.
Early symptoms of Parkinson's disease include:
Tremor
Small Handwriting
Loss of Smell
Trouble Sleeping
Trouble Moving or Walking
Constipation
A Soft or Low Voice
Masked Face
Dizziness or Fainting
Stooping or Hunching Over
How is Parkinson's diagnosed?
Often, the diagnosis is first made by a general practitioner. Many people then visit a neurologist with specific training — referred to as a movement disorder specialist. To diagnose Parkinson's, a doctor will take a neurological history and perform an in-office exam. Although there are no standard diagnostic tests, some doctors may order imaging testing to help confirm a PD diagnosis in the early stages of the disease.
What should I do after receiving a Parkinson's diagnosis?
Adjusting to life with PD can be challenging. It's important to remember that you are not alone.
With early detection, treatment, and expert care, many people live long, productive lives with Parkinson's.
To minimize stress and improve well-being, try taking control of the things you can.
Five steps for living well with Parkinson's disease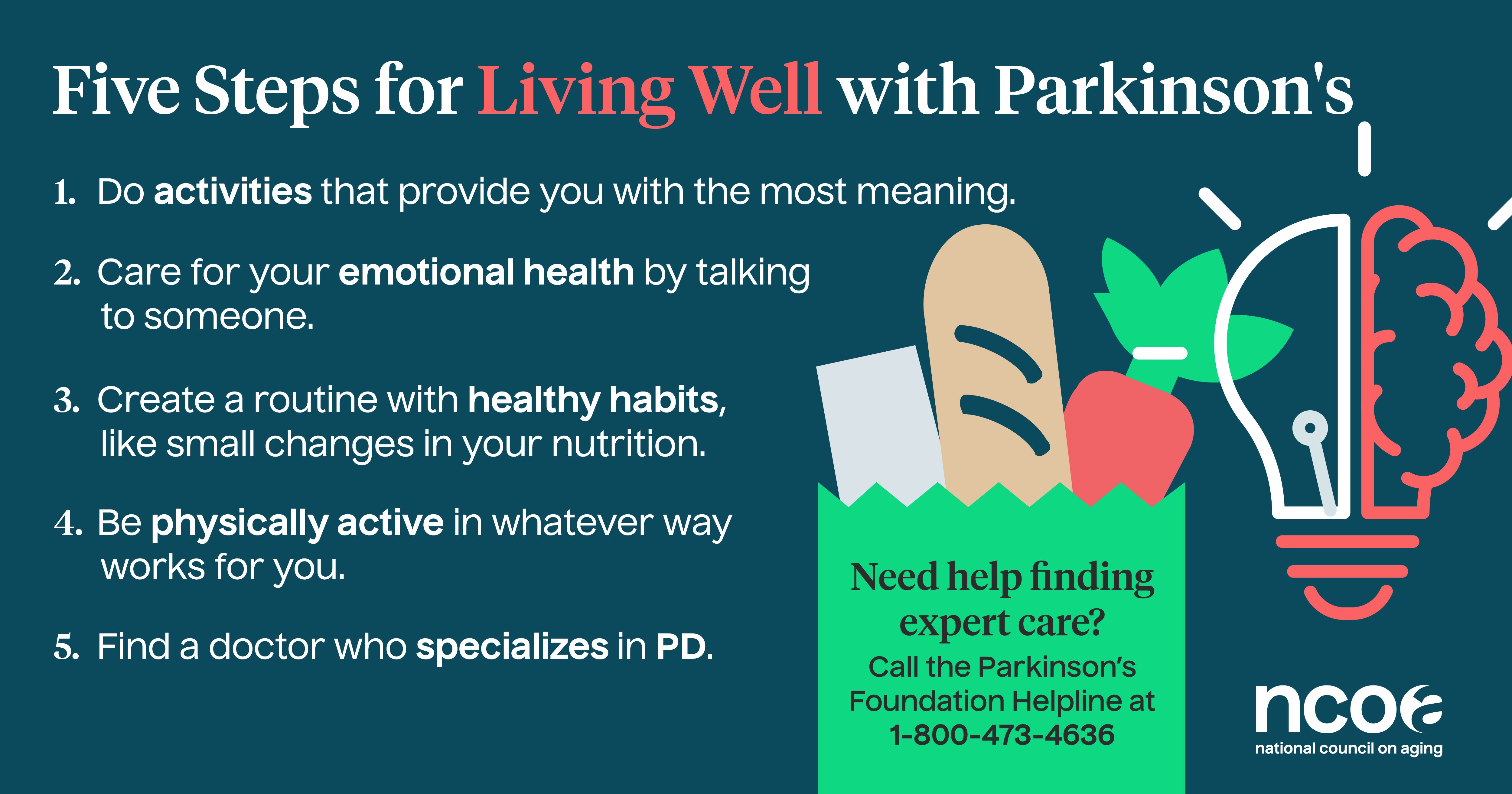 What can I do for Parkinson's Awareness Month?
April is Parkinson's Awareness Month, a time to share information and learn about a disease that nearly 1 million people are living with in the U.S. Together, we can make a difference and create a future without Parkinson's.
This year, Parkinson's Awareness Month is focused on taking action to impact the future of PD, both for yourself and for others. If you've been diagnosed with Parkinson's, consider participating in a research study. Clinical trials can lead to a better understanding of the disease, improved treatment options, advances in care and eventually, a cure.
Take time this month to check in with your care team, or ensure that your loved one has the expert care they need to live better with Parkinson's. If you've been delaying getting the care you deserve, now is the time to find the professionals who can support you.
Finally, know that the Parkinson's Foundation Helpline is here to answer your questions about life with Parkinson's. Call 1-800-4PD-INFO (1-800-473-4636) today if you want to learn more or ask questions.
Sources
1. Parkinson's disease, National Institute on Aging. Found on the internet at https://www.nia.nih.gov/health/parkinsons-disease
2. Understanding causes, Parkinson's, Parkinson's Foundation. Found on the internet at https://www.parkinson.org/Understanding-Parkinsons/Causes