Key Takeaways
Falls are the leading cause of fatal and non-fatal injuries for older Americans.

They can threaten seniors' safety and independence and generate enormous economic and personal costs.

Use these tools, best practices, and other information to learn more about the risks of falls and how they can be prevented.
You might think you're never going to fall,b ut the truth is one in four Americans aged 65+ falls every year in the U.S. You have the power to reduce your risk or protect your older loved ones from a serious fall. Stay safe by educating yourself about the risk of falling, effecitve strategies to increase physcial mobility and strength, and practical solutions to improve home and environmental safety.
This video is also available in Spanish.
Falls Prevention Conversation Guide for Caregivers
Download this resource to help start a conversation about falls with your loved one, and to take steps to create a falls prevention action plan.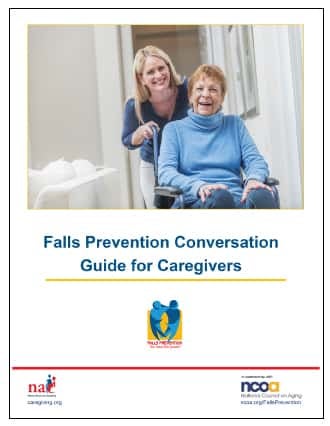 Additional Resources to Help Prevent Falls in Older Adults
Osteoarthritis and Falls. For people with osteoarthritis, learn how to lead an active life and prevent falls and injuries. Read more.
Falls Prevention Success Stories. Read stories from around the country of seniors who were empowered to prevent falls. Read more.
Medication Record Form. Proper medication management can reduce your risk for a fall. Print this medication record form to track your medications and have your medications reviewed by a doctor or pharmacist. Read more.
Infographic: 6 Steps to Prevent a Fall. View and share this infographic that outlines six steps you or a loved one can take to prevent a fall. Read more.
6 Falls Prevention Steps to Help Your Older Loved Ones.

Help an aging parent, grandparent, or neighbor in your life reduce their risk of falling.

Read more

.

Debunking the Myths of Older Adult Falls.

Get informed by learning 10 common myths—and the reality—about older adult falls. Read more.