Key Takeaways
As many as 1 in 14 older adults in the U.S. face food insecurity right now—which can significantly impact their health and quality of life.

The U.S. Department of Agriculture's Commodity Supplemental Food Program, also called the Senior Food Box program, provides important nutrition assistance to eligible participants.

You may qualify even if you receive other benefits, like SNAP assistance. Learn about CSFP income guidelines, eligibility requirements, and more.
It can be challenging to eat a consistently balanced diet on a limited budget—especially if you're an older adult whose monthly income stays the same while food prices and other daily costs rise.
Are you in this situation? You're not alone. In fact, as many as 1 in 14 seniors faces food insecurity in the United States today.1 In addition to malnutrition, this can lead to a constellation of challenges and spending tradeoffs that can negatively impact your health and quality of life.
According to Erin Kee McGovern, Director of Programs at NCOA's Center for Benefits Access, food insecurity has a lot of impacts on an older adults' overall health. "Food insecure older adults are more likely to have falls because they have poor nutrition, which affects muscle mass, bone density, and balance. They also lack vital vitamins and minerals which puts them at risk for chronic diseases like diabetes," she said.
Fortunately, government-funded initiatives such as the Supplemental Nutrition Assistance Program (SNAP) and the Seniors Farmers' Market Nutrition Program (SFMNP) can help you afford your groceries and maintain good nutrition as you age. As with any assistance program, though, there can be limitations to your monthly benefits or the types of food you can buy.
The Commodity Supplemental Food Program (CSFP) can fill in some of those the gaps. Let's take a look.
What is the Commodity Supplemental Food Program (CSFP)? And how does it help older adults?
Sometimes called the "Senior Food Box" program, the CSFP helps eligible participants improve their diets with nutritious surplus food from the U.S. Department of Agriculture's (USDA) commodity food list.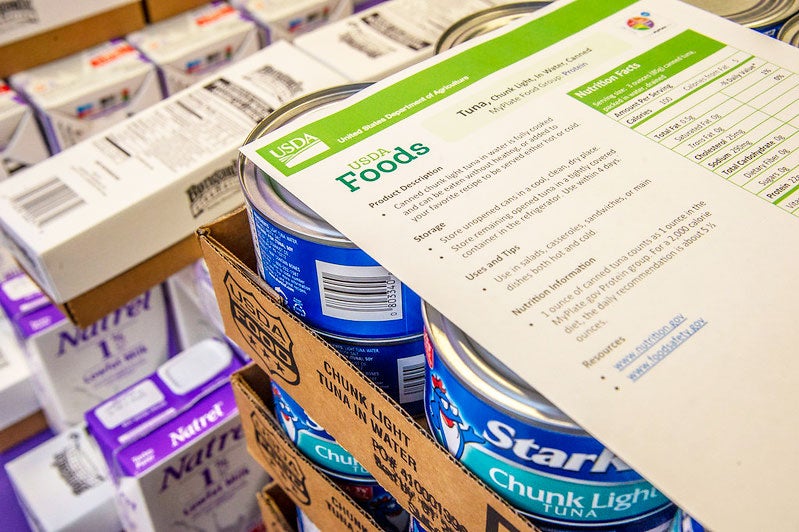 Thanks to the American Rescue Plan Act, which increased federal funding for the program, more than 760,600 older adults currently benefit from it at no cost to them.2
A typical monthly food package might include items such as:
Milk
Juice
Cereal
Rice or pasta
Peanut butter
Dry beans
Canned meat, poultry, or fish
Canned fruits and vegetables
Although the CSFP doesn't provide a complete and balanced diet on its own, it can serve as a reliable source of nutrients that you otherwise might not get enough of. This is true even if you already participate in other food assistance programs. For instance, while $20 in minimum monthly SNAP benefits can go further than you may think, the extra groceries you receive in a senior food box—estimated by Feeding America as containing $50 worth of food—can help you prepare even more healthy meals.
How does the Commodity Supplemental Food Program operate?
The Commodity Supplemental Food Program (CSFP) is a federal food assistance program authorized by the Agriculture and Consumer Protection Act of 1973.3 Through the program, the USDA Food and Nutrition Service (FNS) distributes government surplus food and administrative funding to participating states, which then partner with public and nonprofit agencies to store and distribute the food.
In real life, this means that your state's Department of Health, Department of Agriculture, or other entity works with your local food bank, senior center, community health center, or other partner(s) to qualify and enroll participants and distribute the food each month.
I'm interested in receiving a monthly senior food box. What is the eligibility requirement?
At one time, the CSFP served women, infants, and children as well as older adults. Following a 2014 amendment to the Agriculture and Consumer Protection Act, however, the CSFP now exclusively serves low-income adults who are at least 60 years old.4 (Women, infants, and children who were certified prior to February 6, 2014 may continue to receive benefits until they are no longer eligible under previous program rules).
Each state sets household income limits for the program, which start at or below 130% of the federal poverty guidelines. Because the income limits will depend on where you live, you will need to contact your local participating agency for more information. Be sure to ask about a commodity supplemental food program application, too.
Although uncommon, some states may also impose residency requirements and proof that you are "at nutritional risk."5
Can I get a senior food box if I already receive SNAP assistance?
Yes. There are no rules prohibiting you from getting both. In fact, when combined with other benefit programs like SNAP and the Seniors Farmers' Market Nutrition Program, the CSFP can help you better fill your refrigerator and pantry.
How do I find a Senior Food Box Program near me?
The USDA authorizes all 50 states, the District of Columbia, Puerto Rico, and several Indian Tribal Organizations (ITO)s to operate the Commodity Supplemental Food Program—though not all of them do. Use the USDA's contact map to check availability in your area.
Do you sometimes struggle to buy groceries? Are you concerned about your food security overall? NCOA is here to help. Learn more about the food assistance programs you may qualify for, and use our free, confidential BenefitsCheckUp tool to uncover additional financial resources to help you pay for other basic essentials.
Sources
1. Feeding America's "Senior Food Insecurity Studies". Found on the internet at https://www.feedingamerica.org/research/senior-hunger-research/senior
2. USDA Food and Nutrition Service's "Commodity Supplemental Food Program". Found on the internet at https://www.fns.usda.gov/csfp/commodity-supplemental-food-program
3. USDA Food and Nutrition Service's "CSFP Fact Sheet". Found on the internet at https://www.fns.usda.gov/csfp/csfp-fact-sheet
4. https://www.federalregister.gov/documents/2014/07/09/2014-16055/commodity-supplemental-food-program-csfp-implementation-of-the-agricultural-act-of-2014
5. USDA's "Commodity Supplemental Food Program Fact Sheet". Found on the internet at https://fns-prod.azureedge.net/sites/default/files/resource-files/csfp-program-fact-sheet-2019.pdf