Key Takeaways
Medicare will send you a red, white and blue card in the mail. This card will include your unique Medicare number and the start date of your Parts A and/or B benefits.

If you are enrolled in Medicaid, Medicare Advantage, Medigap or Part D prescription drug plan, you will receive separate cards.

You can request a new Medicare card by calling Medicare (1-800-Medicare), or on the Social Security website.
Once you are enrolled in Medicare, you will receive your Medicare card.You will need to take with you to all medical and health services appointments. You should also have it available when speaking with Medicare or your health insurance or prescription drug insurance company.
Below are detailed instructions on what you should do once you receive your Medicare card and if you lose your Medicare card.
Medicare Card
Once enrolled in Medicare, Social Security will send a red, white and blue Medicare card in the mail. If you are automatically enrolled, your Medicare card will be mailed 3 months before your 65th birthday or the 25th month of getting Social Security Disability Insurance (SSDI) benefits.
The Medicare card shows that you have Medicare health insurance, whether it is Part A, Part B, or both. The card will show the day your coverage starts. The card will also show your Medicare Number, which is unique to you. Your Medicare number is no longer the same as your Social Security Number. Your doctors, pharmacists, and other health care providers will ask you to provide this number.
This is what a Medicare card looks like: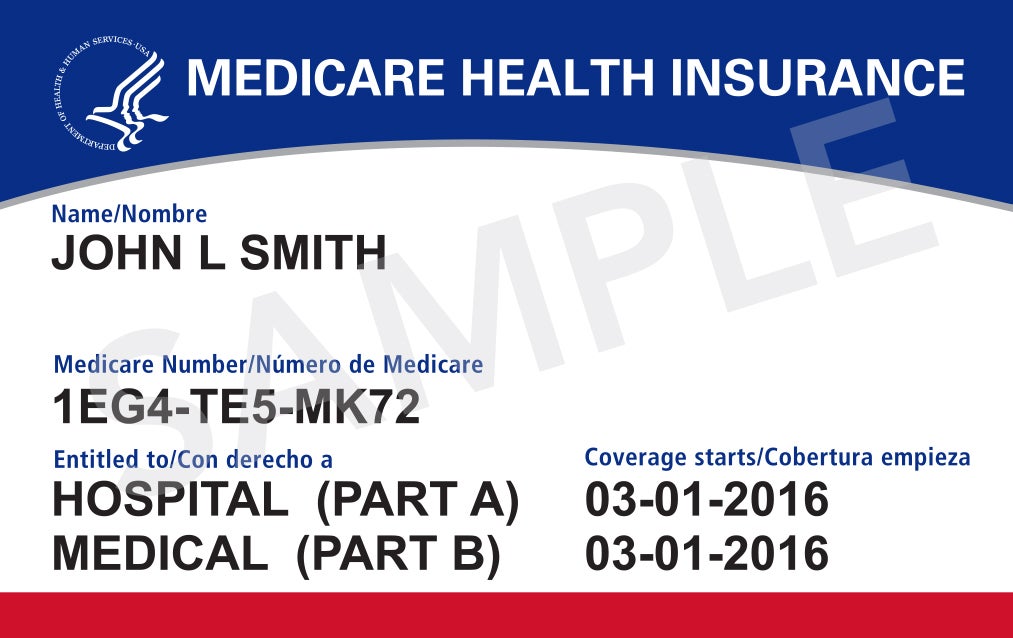 If you signed up for other plans such as Part C (Medicare Advantage), Part D (prescription drug)/Medigap plan, or Medicaid, you will receive a separate card . You will need to also provide that card to your doctor, pharmacist, or other health care providers.
Lost Medicare Card
If you lose your Medicare card, a new one can be requested either online or by telephone:
Request a replacement card on my Social Security account, or
Call Social Security's hotline at 1-800-772-1213 (TTY users, call 1-800-325-0778).
Social Security will mail a new card in about 30 days. If proof is needed sooner, let Social Security know and they can provide support until a replacement card is issued.