Key Takeaways
His father's Alzheimer's diagnosis led television news anchor Richard Lui to direct a film that takes an honest and powerful look at how caregiving impacts mental health.

Lui and his family are one of three subjects of the film Unconditional: When Minds Hurt, Love Heals.

The filmmaker's goal is to shine a light on mental health and remind us that mental health equals health.
As a television news anchor, Richard Lui is comfortable in front of a camera. But in the seven years he spent working on a documentary about the mental health of caregiving, including his own mental health as a caregiver for his father, the project took a personal toll.
"First of all, I have given up a lot of my health, physically and mentally," said Lui, who anchors for MSNBC and NBC News. "I stopped exercising for three years. I pushed myself too much, more than I ever have, and I've pushed myself a lot in the past. This was the most."
But the payoff, as Lui described a few months after the film was widely released, is profound.
I'm probably at the best point of being a human in my life than I ever have," Lui said.
Changing the conversation about mental health
As NCOA Board Member Cheryl Woodson, MD, likes to say, "If you think caregiving doesn't apply to you, keep living." Millions of Americans are impacted by caregiving, and what's often missing is an understanding of the mental health challenges that come with the job.
With the tagline "When minds hurt, love heals," Lui's film takes a heartbreakingly close look at how caregiving affects the mental health of three families:
The Lui family, of San Francisco, including Richard and his siblings, as his father's dementia progresses and his mother begins facing some health challenges.
The Bushatz family, of Palmer, Alaska, dealing with father Luke living with post-traumatic stress disorder and the effects of traumatic brain injury.
The Hendricks Thomas family, of Alexandria, Virginia, coping with mom Kate's cancer diagnosis and treatments.
Shane Thomas says during the film, as he learned he needed to reach out for support for his own mental health while tending to his wife, "I can't worry myself into a time that I can't function."
Lui said his goal for the film that is his second documentary on caregiving is to "open up new conversations about mental health."
"I want this film to make mental health not equal mental illness," Lui said as the film was being released on streaming platforms. "I want the film to be able to open up the conversation that mental health equals health."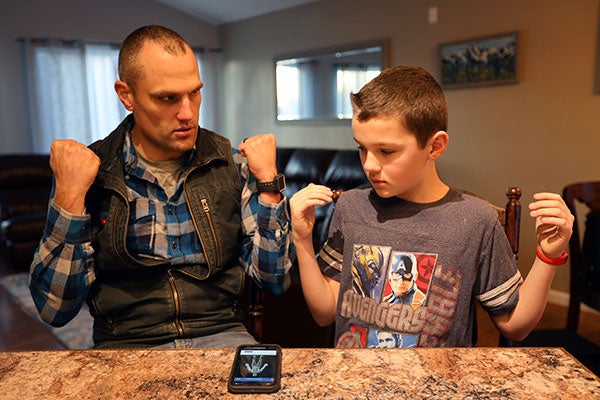 Shining a light on caregiving
When Lui's father was first diagnosed with Alzheimer's disease, "My first inclination was, 'Alright, how bad is it, and what will he need?' And then, quickly, it doesn't take long to figure out he's going to need a lot of support from those who care for him and love him."
The next question Lui asked himself, "So do I go small or big or something in-between?"
He knew it wasn't going to be something small. He decided he was going to need to quit his New York-based job and move to the west coast, where his parents lived. He went to his boss, Yvette Miley, expecting the conversation to be a resignation or goodbye.
"But she looks at me and goes, 'I'm a long-distance caregiver, too, Richard.' I was just like, this is unbelievable."
That conversation, for Lui, was the beginning of "I can do this."
He flew back and forth between New York City and San Francisco for about a year, spending as much time as possible with his father. Then Daphne Kwok, AARP's Vice President VP, Diversity Equity & Inclusion, Asian American & Pacific Islander Audience Strategy, said, "I want to film you doing this." Kwok explained she wanted to be sure to include different communities of color as the faces of caregiving. Lui allowed the filming.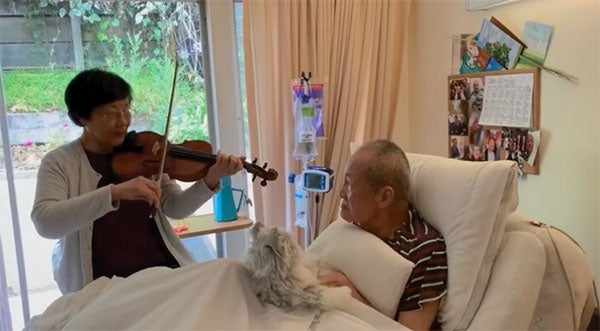 Then, Lui realized everyone needs to feel like, "That's us. That we're being seen. And then I said, 'Well, how can I help people see how amazing they are in what they're doing caring for others?'
"So then I want to put them up on the big screen. If I believe this is one of the most important jobs we'll ever have in our lives, how do I truly show it, not just say it?" Lui decided to "push the envelope here and see if I can get a documentary done."
A learning curve, and realizing you're part of a caregiving community
Lui and his producer, Alex Lo, were both first-time filmmakers when they started work on their first caregiving documentary, Sky Blossom, and the subsequent Unconditional.
"When we started out on making these films, I don't know that I would have called myself a caregiver," Lo said. Yet he was a caregiver for both his grandparents, who had Alzheimer's disease. "I think that's something a lot of the community, the caregiving community, goes through, it's just something I do for my grandparents or something I do for my mom or dad, or siblings, or a loved one.
"I think that's part of the caregiving journey, just realizing you're part of a larger community," Lo said. "Millions of people are going through this. Part of what attracted me to this project is to give folks that comfort that they're not alone. There are so many folks going through this with you, who understand."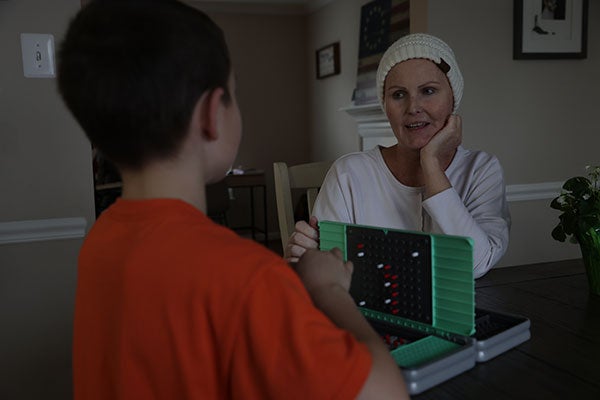 Both Lui and Lo, breaking-news veterans, knew how to turn a story around in a day. It was a huge shift to go from producing 2-minute news stories to a 90 minute documentary. Crews shot 100 hours of film that then were edited down to two, 90-minute documentaries.
"We really had to think through every shot, every sound bite that's used, ever scene with great care," Lo said. "We were really surprised with just how raw and open and willing to share that each family was.
I don't know that I would have been able to be so open….it's just so personal."
Nearly 150 people helped bring Unconditional to the screen, from composers to animators to public relations professioals to editors, and 80% of them were caregivers, too. "They got it right away," Lo said. "The energy they brought to this kept it going as well."
Continuing to raise awareness about caregiving and mental health
After its theatrical release in May 2023 at several AMC theaters nationwide, the film aired on MSNBC and then was available to stream on PBS. First Lady Jill Biden hosted a screening of the film at the White House as part of Mental Health Awareness Month in 2023.
"I couldn't have dreamt ever to think of standing in the East Garden and speaking with the first lady, much less anyone from the White House, about this film," said Lui, who is grateful that "our White House says caregiving is important and this movie helps you understand it better."
Both Lui and Lo are still in contact with the documentary's subjects.
"We will always be caregivers," said Lui, who likens caregiving to being an astronaut, running out of oxygen, handling the strange and unexpected, redirecting and adapting. "That's the grateful thing. As difficult as it is, and was."
Lui's enduring message for everyone touched by caregiving?
"We turned out better for it, and that we'll be OK."
Unconditional is available for rent or purchase from Prime Video. Learn more about the film.