After enrolling in Medicare it's important to understand the basics required to keep a plan, this includes paying a monthly premium. There are several options for getting this done.
Paying Medicare Parts A & B Premiums
Part B premiums automatically come out of Social Security checks if Social Security retirement benefits have started. If benefits have not started, there is a quarterly bill (every 3 months) that included Parts A (if applicable) and Part B. These bills can be paid in a couple of ways.
How to pay Medicare parts A and B Premiums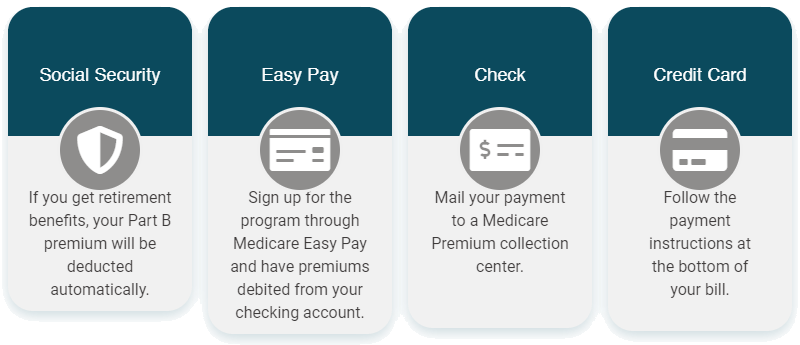 Paying Medicare Part C, Part D, and Medigap Premiums
There are 3 options on how to pay premiums for private plans, and they will differ by provider.
How to Pay Medicare Parts C/D/Medigap Premiums

Premiums can be withheld from Social Security checks as well, but this must be initiated manually. Premiums may need to be paid directly for a couple of months until automatic withdraws begin. Switching during the Open Enrollment Period may offer the opportunity to enroll in a better plan but keep in mind the previous years' premium may be withheld an extra month or two and be reimbursed later.
Late Premium Payments
If Medicare premiums are not paid it is possible coverage may be lost, but it won't happen right away. Part B is billed in 3-month increments and there is a 3-month grace period after the due date. If payment is not made by the end of the grace period, notification of plan termination will be sent at the 4-month mark, unless paid in full 30 days after notice.
Private plans (Part C, Part D, Medigap) treat failure to pay premiums differently. Contact the plan provider to learn about their policy but remember that coverage cannot be canceled without written notification first.