Key Takeaways
Billboards and other outdoor advertising can be successful ways to educate people with Medicare about your program and their Medicare benefits.

Billboards are most effective when placed in busy travel corridors and layered with other forms of advertising including radio, print, and social media.

Advertising your MIPPA or SHIP program on buses and gas pumps are other creative ways to get the word out.
Aging and disability organizations have long used outdoor signage (or out of home, OOH advertising)—whether billboards along a road or a placard on a bus or subway car—to increase program awareness and disseminate their contact information. Learn about several outdoor advertisement strategies that were intended to guide people with Medicare to learn more about Medicare benefits, and what lessons were learned from this outreach approach.
Putting community outreach on the (physical) road
Billboards are commonly used as one part of a larger (often state-wide) awareness campaign for Medicare Improvements for Patients and Providers Act (MIPPA) outreach and the State Health Insurance Assistance Program (SHIP). Grantees report incorporating billboard advertising with other forms of media outreach to bring their message to their communities. For example, the Arkansas SHIP regularly pairs billboard messages with radio advertisements to promote a single unified message. The program recently found success in placing billboards near retirement communities along with media reminders about Medicare's annual open enrollment period.
Placing billboards along heavily traveled roads, particularly in rural areas, is another common program promotion strategy. Including the program name, contact, and logo along the roadside with a simple inquiry like "Need Help Paying your Medicare Costs?" is seen as a way of meeting folks where they live, travel, and commute. Repeated exposure is thought to raise curiosity and potentially nudge the traveler into action. This strategy is especially helpful in communities where the ability to hold outreach events is limited.
Overall, grantees report that billboards are seen as most effective when placed in busy traveling corridors and layered with other forms of advertising including radio, print and social media.
The logistics of billboard outreach
Grantees report little difficulty in purchasing billboard space or creating the graphic to appear on the billboard. One cost-saving strategy mentioned by several states was opting for a smaller more economical junior poster instead of the full-size billboard space. A junior poster/billboard is typically 6 feet by 12 feet and can be a single or shared space display. Several states had explored electronic billboards but found that their current budget could not accommodate the cost of the digital ads.
While billboard advertising can be purchased for a few months or a year, the Louisiana MIPPA program reports having their advertisements remain in place for months after the contract ended provided bonus advertising at no additional cost to the program.
The Massachusetts SHINE (SHIP) program cautions states to review the billboard landscape prior to purchasing advertising space to ensure that your message is not competing with other sponsors for viewer attention. If a billboard space is crowded with too many advertisements, then the visibility and impact of your ad will be reduced.
Obstacles to using billboard advertisements
A common concern shared by several grantees was the difficulty in measuring the true effectiveness of billboard advertising. While some grantees have set up a system to screen callers and collect call source data, many have been unsuccessful in tracking and recording how callers first learned about their program.
One granted opted to discontinue billboard outreach after determining that travelers were unable to jot down program contact information while traveling, nor recall program information once out of their vehicle.
As an alternative to physical billboards, the Washington SHIP has had success with an online neighborhood platform (Next Door) to post program announcements and event information.
Outdoor outreach in action
Pictured below are examples of outdoor advertising that have been shared by MIPPA/SHIP grantees.
SHIP Campaign Gas Top Proof of Performance
The Alabama SHIP ran a gas station topper advertising campaign which ran across large parts of the state from September through October of 2020. While the state did not collect impact data, the effort was seen as a great way to see SHIP contact information during an idle moment of the day.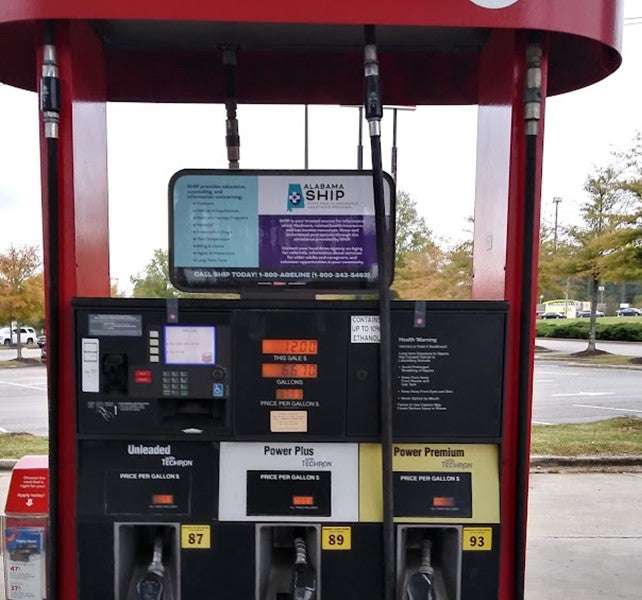 Bus Placard
The Aging & Disability Resource Center in Oshkosh, WI created this bus advertisement to showcase their services in the community.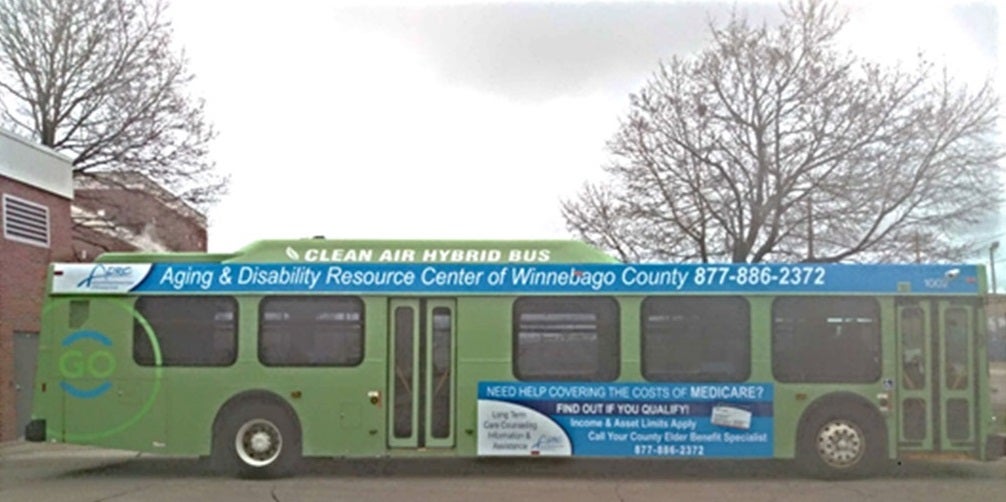 Sample Billboards
Louisiana MIPPA funding was used to create billboards reminding residents to take advantage of the free Medicare check-up services.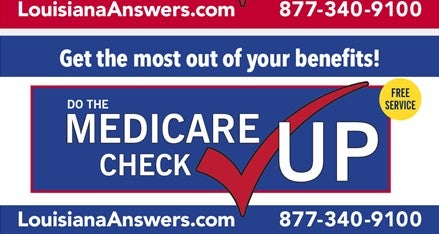 Additional examples of billboards created by the California HICAP (SHIP) offer simple, relatable messages to people looking to save money on Medicare costs.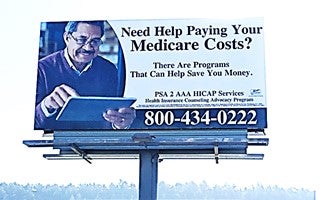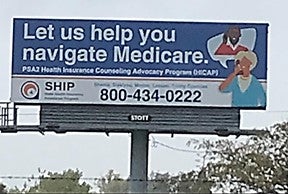 If you have questions about the outreach described or would like to share your experience, please contact Ann Kayrish at the Center for Benefits Access.