NCOA recognizes the importance of representing care work through art
Contact
Simona Combi
Public Relations Manager
571-527-3982
simona.combi@ncoa.org
Arlington, VA (June 21, 2022) — The National Council on Aging (NCOA), the national voice for every person's right to age well, has selected the winners of its third annual contest for images on the theme of caregiving and aging well.
"Caring for an older loved one is an honor," said NCOA President and CEO Ramsey Alwin.
These images show the complexity and importance of caregiving. We need to recognize caregiving as the indispensable part of our social fabric that it is," Alwin said.
The exhibition presents many distinguished photographers and artists who document older adults and their caregivers spending time with each other. The experiences are both unique and universally human.
The top photographs and artists were announced at NCOA's Age+Action Conference, June 6-8, which featured 300+ speakers and 120+ sessions designed to help community-based organizations better serve older adults.
First Place went to About These Fingernails, submitted by Cynthia Abatt, where Abatt's image asks us to look at stereotypes about aging with challenges, about who the caregivers are, and about the typical relationship between a companion and someone who needs help.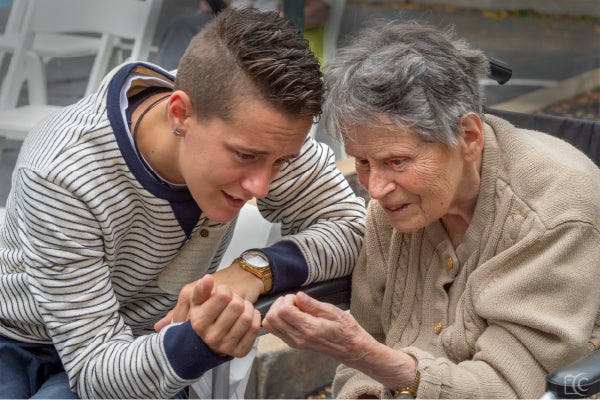 Second Place was awarded to Night-Watch, by Steven Smith—what he calls a 'daughter's long goodbye, a caregiver's journey'. For the last two years, the entire world has battled COVID-19. Pictured below is Leandra Manos, caring for her 85-year-old-father, George Manos, who is in the final stages of dementia.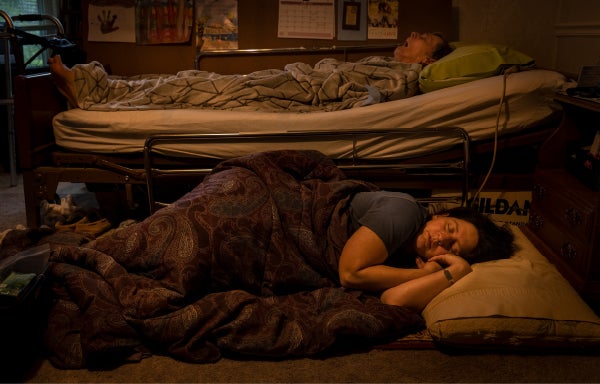 The Merit and Honorable Mention awards include photos of older adults of all races and backgrounds.
Merit Awards went to I Am Family: Orna and Ed in The Park by Ellen Jacob, Activist by Michael Paras, Companionship by Steve White, Brothers In Arms by Sonya Tanae Fort, Saimi and Her Nurse by Connie Springer, Friends In The Park by Mark Coggins, Rose by Shoshana Fink, and Mom Laughs by Mark Holley.
Honorable Mentions went to Elliston by Alex Eggleston, A Glimpse Of Beauty by Hanna Latham, Grandma Cookie by Michael McFadden, Rachael by Michael Paras, Grandpa by Lisa Winner and Stephana Ferrell, Aquatic Physical Therapy by Connie Springer, Dad's Haircut by Joseph Bui, Spirited Debate by Mark Coggins, Putting on Socks by Claudia Kass Lascola, and Touch by Nina Weinberg Doran.
The public is invited to view the complete NCOA Gallery of all selected photographs and artists, and vote for their favorite image. NCOA will also be releasing regular posts on Instagram, highlighting the winners and invited participants, sharing each unique story behind the photo. Follow us on Instagram to learn more.
About NCOA
The National Council on Aging (NCOA) is the national voice for every person's right to age well. We believe that how we age should not be determined by gender, color, sexuality, income, or zip code. Working with thousands of national and local partners, we provide resources, tools, best practices, and advocacy to ensure every person can age with health and financial security. Founded in 1950, we are the oldest national organization focused on older adults. Follow us at @NCOAging.