Key Takeaways
Good nutrition doesn't need to be complicated. Many older adults simply need the right information and tools to make healthy food choices.

There are many opportunities to save at your local grocery store, which can help you stretch your food dollars and put healthier meals on the table.

See how you can identify, shop for, and prepare nutritious, budget-friendly meals at home using MyPlate for older adults.
The evidence is clear: eating healthy is key to being healthy. And being healthy is one of the most important contributing factors behind aging well and aging in place. Giving your body the nutrients it needs, in other words, can help you stay active and independent for years to come.
Knowing this and doing it are two separate things, of course. Making smart food choices isn't simply a matter of intent; if it were, fewer Americans would suffer the harmful effects of poor nutrition, including obesity, diabetes, high blood pressure, and other chronic conditions that negatively impact their health, well-being, and quality of life.1 Following a healthy diet depends not only on understanding what to eat—which can be tricky because dietary guidelines change as we age—but also on how much nutritious food you actually can afford to buy. This is especially true if you use Supplemental Nutritional Assistance Program (SNAP) benefits for your grocery shopping.
Fortunately, MyPlate helps with these things and more.
Published by the Department of Agriculture (USDA), this free resource provides a wealth of valuable information on planning, preparing, and enjoying nutritious, budget-friendly meals at home. There's even a MyPlate section for older adults that emphasizes the unique benefits of healthy eating and exercise for individuals over the age of 60.
With MyPlate, you can:
Learn about the specific nutritional requirements for older adults.
Get tips for incorporating that knowledge into your meal planning.
Discover ways you can increase your daily activity.
Find ideas for stretching your food budget, especially if you receive SNAP assistance.
And it's easy to use, too, once you know the basics. Are you ready to make every bite count? Get started with MyPlate using this handy guide (MyPlate also available as an app to download, so you can use it right on your mobile device. Get it for Android or download from the App store).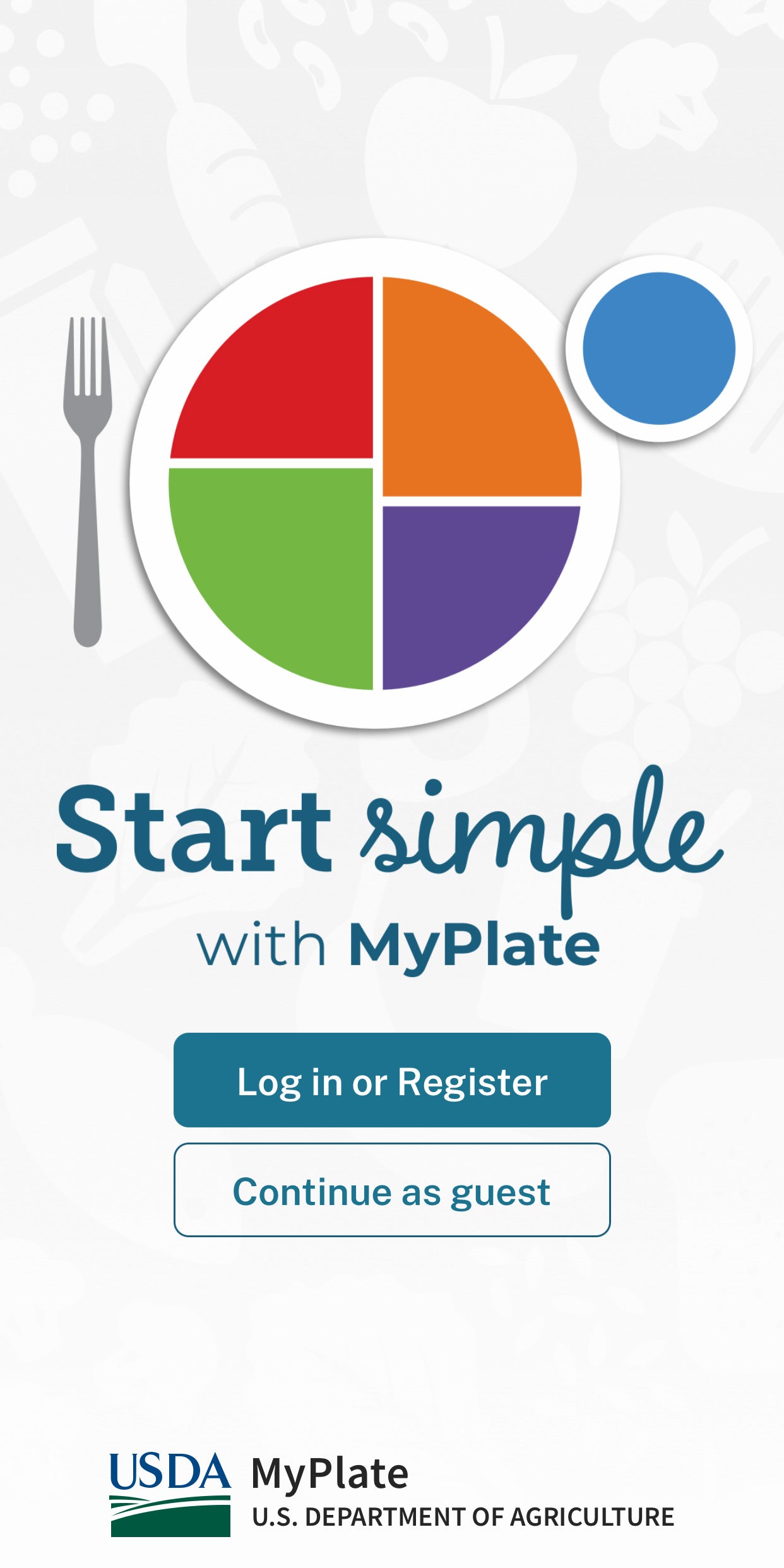 Step one: Find your baseline in your nutrition routine
Making healthy changes to your diet begins with understanding where you're coming from. How much do you already know about nutrition? What do you typically eat now? What would you like to learn more about?
The MyPlate Quiz is a great place to start.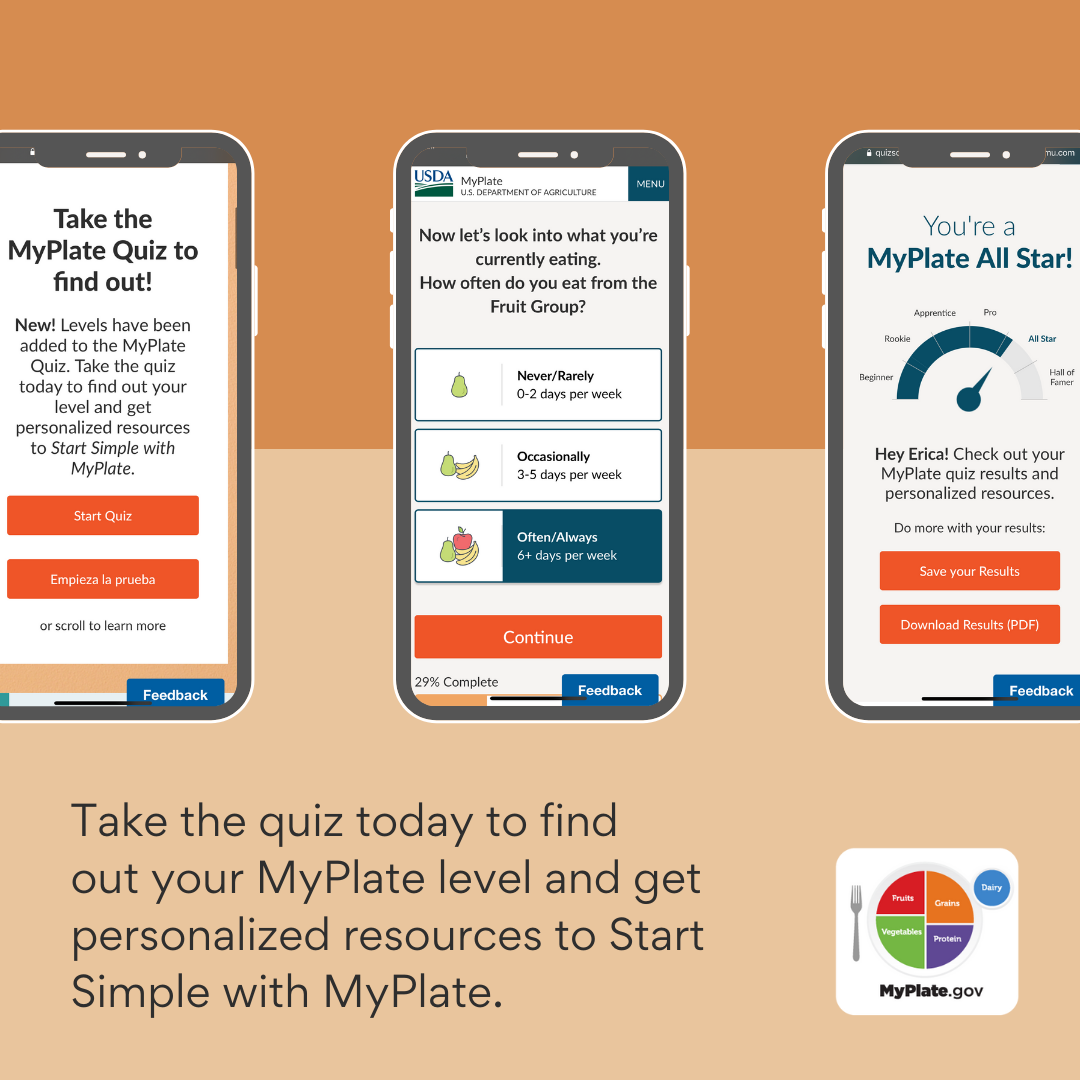 After completing a brief series of multiple-choice questions, you'll receive an overall "score" as well as personalized resources to help you achieve the goals you identified in the quiz. For instance, if you'd like to incorporate more fruits into your diet, you can access a Tip Sheet specific to that topic.
You'll be able to save your results or download them to your computer or mobile device for easy reference later, too. And you can return to the quiz at any time to measure the positive progress you'll soon be making.
Step two: Learn the ingredients of a healthy plate
Now that you know where you're starting with your diet—and where you need to go—how are you going to get there?
"These days, the popular media pushes so much conflicting dietary advice that it's easy to feel overwhelmed or intimidated," said Dorothea Vafiadis, director of health partnerships and strategic engagements at NCOA. "And that deters a lot of people, including older adults, from even trying to make better eating choices."
But good nutrition can be achieved by setting small goals and practicing self-compassion. It's simply a matter of having the right information and tools to help you manage roadblocks to eating better," Vafiadis said.
MyPlate provides both.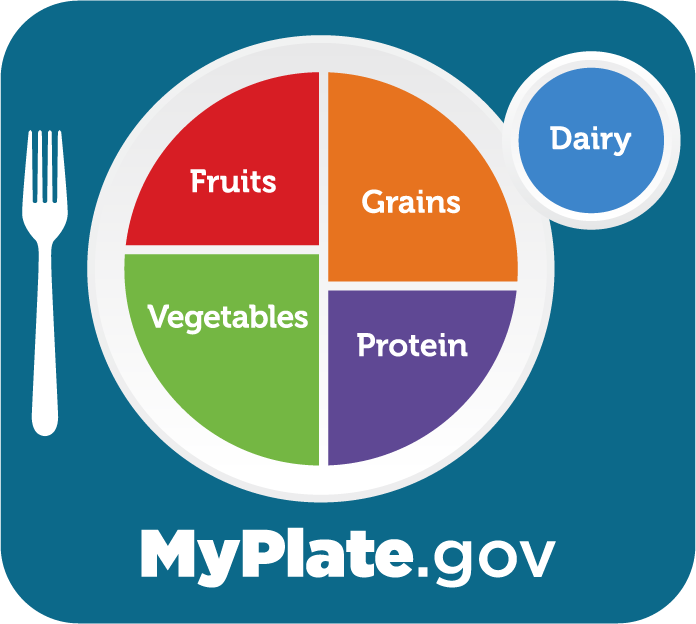 First, using its clear and colorful diagram, you can easily visualize what types of foods you should include on your plate for every meal, and in what proportions:
50% fruits and vegetables
50% grains and proteins
Some dairy
Second, you can learn more about the options available within each food group, and which choices are the healthiest.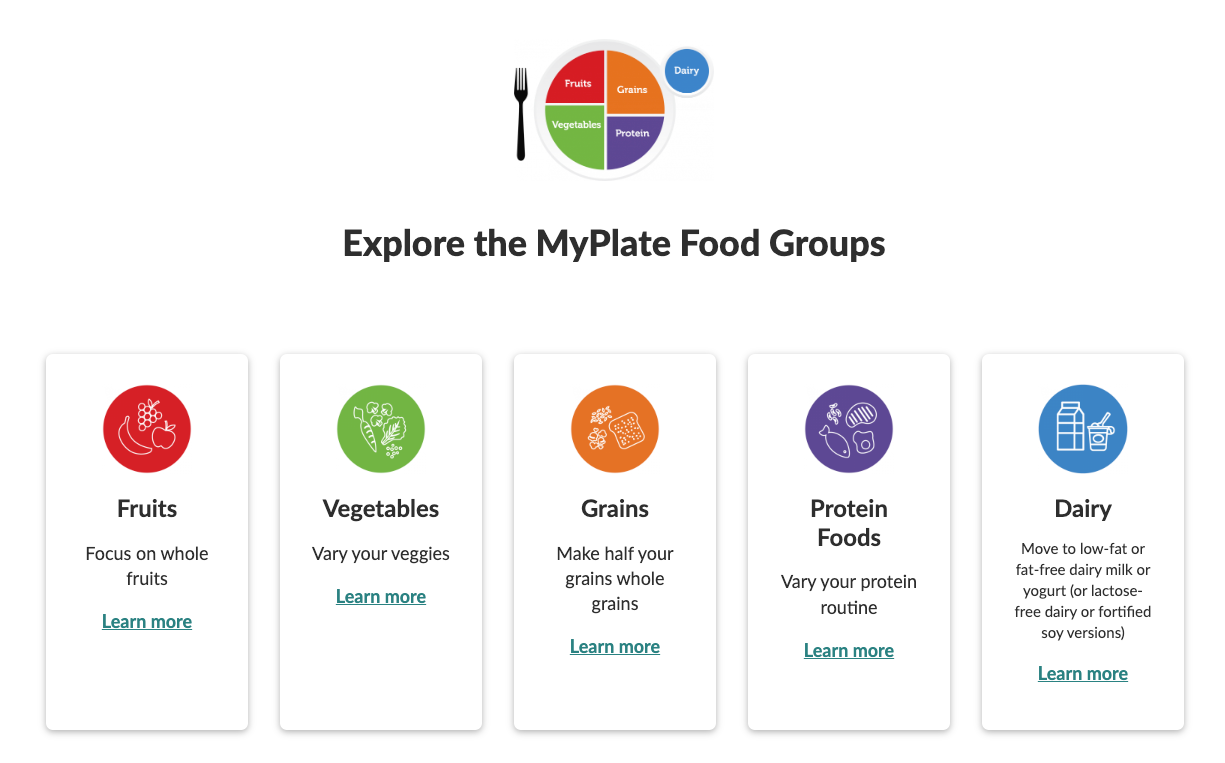 Simply click on the link under each category, and you'll discover a wealth of related information, including:
Why that type of food is important
How much of that type of food you need
What constitutes a serving size
And more
You can even get a personalized eating plan based on your age, sex, height, weight, and activity level.
Step three: See where to shop for healthy food
When it's time to buy your groceries, MyPlate's Shop Simple tool can help you save money on your bill, whether you receive Supplemental Nutrition Assistance Program benefits or not. Simply type in your ZIP code, and you can locate nearby stores both that accept SNAP electronic benefits cards, and that offer coupons and rewards, too.
If going to the grocery store is a hardship, you should know that SNAP benefits cover most online grocery delivery services, though you will still need to pay for the delivery fee out of pocket. While generally not covered by SNAP, you may also find that meal delivery services are surprisingly affordable.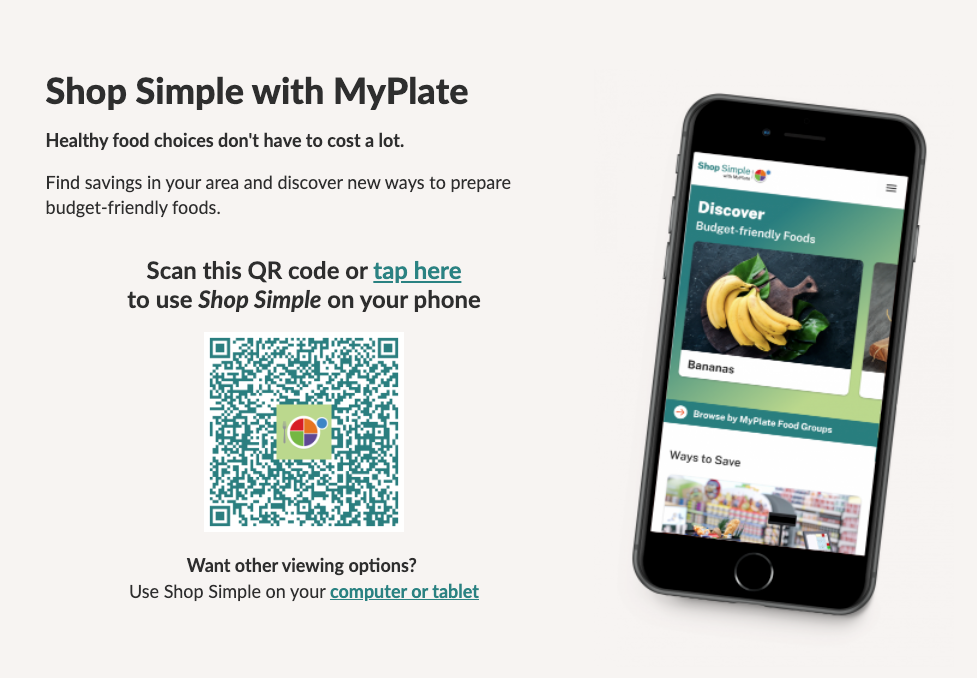 For Ms. S., 75, who lives with a disability in rural Maryland, knowing where to shop for affordable, healthy food options is extremely important. "Finding a nearby store that sells the Asian fruits and vegetables I'm familiar with, and that accepts my SNAP benefits, has really made a difference," she said to her benefits counselor.
"Now I can buy the ingredients I need to make the foods I love, even on my limited budget. My diet has improved as a result."
With Shop Simple, you can even learn new ways to prepare the groceries you buy. Easily search for recipes based on specific ingredients or categories of foods. Or, if you need greater inspiration, browse the complete library.
This guide merely scratches the surface of the many valuable resources available at MyPlate. When you're ready to make positive changes to your diet and lifestyle, MyPlate is the place to start!
FAQs
What are the nutritional requirements for older adults?
The USDA's Dietary Guidelines for Americans (DGA) provides science-based advice on what we should eat and drink to meet our daily nutrient needs across the lifespan. In order to support healthier aging, DGA recommends that adults 60 years and older eat more fruit, vegetables, whole grains, and dairy. Consuming fewer added sugars, saturated fats, and sodium is also important for better managing chronic health conditions or avoiding them altogether.
How is MyPlate different for older adults?
MyPlate aligns with DGA's latest age-based dietary guidelines, which makes it simple to understand your daily needs and make every bite count.
I don't have a smart phone. Can I still use MyPlate?
Absolutely. You can access the MyPlate website from any computer or tablet device.
I do have a smart phone. Is there a MyPlate app?
Yes. The free Start Simple With MyPlate app is available for Mac OS and Android devices. Get it for Android or download from the App store. There's even a MyPlate skill for Amazon Alexa, too.
For more specific questions, be sure to visit MyPlate's App Support page.
I sometimes have trouble affording groceries. Where can I find help?
NCOA is here for you.
Start by exploring our SNAP for Older Adults resource library, where you'll discover a variety of helpful articles including the income limits for SNAP, how to apply for SNAP assistance, where you can use your SNAP benefits, and much more.
When you're ready, you can use NCOA's confidential screening tool, available at BenefitsCheckup.org, to help determine whether you qualify for SNAP or other food assistance programs for older adults.
Sources
1. The Harmful Facts Effects of Poor Nutrition, Poor Nutrition Fact Sheet, The Centers for Disease Control and Prevention. Found on the internet at https://www.cdc.gov/chronicdisease/pdf/factsheets/poor-nutrition-H.pdf