Key Takeaways
Being vaccinated and wearing a mask in crowded indoor spaces are key to protecting older adults from COVID-19.

The Resilient American Communities' (RAC) COVID Initiative supports communities in their efforts to prevent and manage the risks of COVID, especially for the underserved and vulnerable who have struggled to generate sufficient capacities and resources to improve their conditions.

Join RAC by printing and sharing this infographic/flyer and help protect those we love. Other resources are available on the RAC website.
The risk of severe COVID-19 increases with age. But we have the tools to help taper the spread of COVID-19, including getting vaccinated.
According to the Centers for Disease Control and Prevention, people 65 and older who received both doses of either Pfizer or Moderna vaccines, either with or without boosters, had a 94% reduced risk of COVID-19 related hospitalization.1 Early estimates are showing the updated bivalent booster reduces an older adult's risk of hospitalization by another 74%.2 And face masks remain a key tool in reducing coronavirus infections.3
In an effort to help communities prevent and manage the risks of COVID, the Resilient American Communities' (RAC) COVID Initiative created a communication resource detailing four steps to 'Protect the Ones You Love'.
Join RAC by sharing this flyer and help protect your loved ones. The RAC website also features images for posting on social media that remind all of us to take steps to protect older adults from COVID.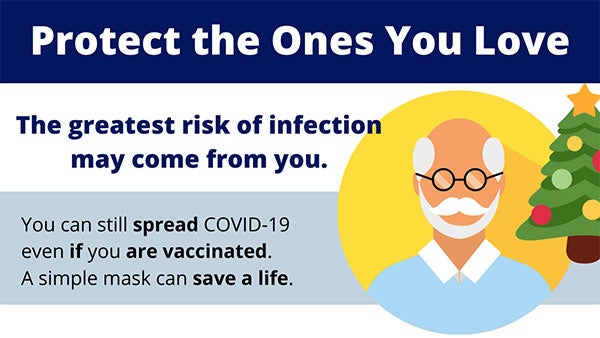 This article was updated in December 2022 to reflect the most current COVID-19 statistics.
Sources
1. Centers for Disease Control and Prevention. COVID-19 Recommendations for Older Adults. Found on the internet at https://www.cdc.gov/aging/covid19-guidance.html
2. Surie D, DeCuir J, Zhu Y, et al. Early Estimates of Bivalent mRNA Vaccine Effectiveness in Preventing COVID-19–Associated Hospitalization Among Immunocompetent Adults Aged ≥65 Years — IVY Network, 18 States, September 8–November 30, 2022. MMWR Morb Mortal Wkly Rep. ePub: 16 December 2022. Found on the internet at https://www.cdc.gov/mmwr/volumes/71/wr/mm715152e2.htm?s_cid=mm715152e2_w
2. Centers for Disease Control and Prevention. Types of Masks and Respirators. Found on the internet at https://www.cdc.gov/coronavirus/2019-ncov/prevent-getting-sick/types-of-masks.html