Key Takeaways
For older adults who live alone, cooking at home can sometimes feel like a chore that's not worth the time or effort.

Pre-packaged "convenience foods" offer an attractive alternative—but the health trade-offs can be significant.

You can prepare simple, nutritious meals for one using items from the Commodity Supplemental Food Program—and you'll save time and money, too.
The Commodity Supplemental Food Program (CSFP) is a vital federal benefit that provides income-eligible older adults with a monthly box of groceries from the United States Department of Agriculture's (USDA's) commodity food list. When combined with other food assistance initiatives like the Supplemental Nutrition Assistance Program (SNAP) and the Seniors Farmers' Market Nutrition Program (SFMNP), the CSFP can help you better stock your fridge and pantry.
Having enough food on hand is the first important step toward maintaining a healthy diet—something that's increasingly important as we age. Knowing exactly what to do with that food—how to turn it into tasty, nutritious meals that you actually want to eat—is the next. But let's face it: unless you're a trained chef, this skill isn't exactly intuitive. And for seniors who live alone, the process of cooking for one can seem more like a chore than an enjoyable routine.
"This can lead to habits and negative effects that become difficult to change," explained Dorothea Vafiadis, director of health partnerships and strategic engagements at NCOA. "For example, if you're used to cooking for two or more people, spending time in the kitchen can feel lonely—so you avoid doing it. Or maybe you'd really like to prepare healthy meals for yourself, but you don't know how to adapt your tried-and-true recipes. In either case, it's much easier to pop a frozen meal into the microwave or heat up a can of store-bought soup."
Such simplicity, combined with the fact that many pre-packaged meals really do taste good, can normalize convenience eating, Vafiadis said. "But foods like these tend to be high-calorie, low-nutrition options that are loaded with salt, sugar, and unhealthy fats—all of which run counter to good health and well-being."
This is where the CSFP (often called the "Senior Food Box Program") can really shine. With the right knowledge and skills, you can transform some basic kitchen staples into healthier, more flavorful meals without a lot of fuss. And you'll save money, too. According to Feeding America, each senior food box contains an estimated $50 worth of free groceries. This can help you further stretch your food budget while maintaining good nutrition.
In this article, you'll learn:
Why making your own meals is a good choice
What you can cook with items typically included in your senior food box
How to adapt recipes for single-portion meals using straightforward steps
Where to find information on additional benefits and resources
You'll find some sample recipes and other helpful cooking-for-one hints, too.
Why should I cook for myself?
When you prepare your own meals, you decide exactly what goes into them. You get to choose the ingredients, the portion size, and even whether you want to have breakfast for dinner.
Beyond this sense of freedom and control, making your own meals provides a host of other positive benefits, too. In fact, research shows that cooking at home can help you:
Consume fewer calories
Maintain a healthy weight
Prevent Type 2 diabetes
Avoid (or better manage) other chronic conditions
"Making your own meals—even, or especially, if you're doing it for one—is an act of self-care," Vafiadis said.
Eating better can give you more energy, and cooking can give you confidence. Both can help you feel good about yourself, which is just as important to your mental health as it is to your physical well-being," Vafiadis said.
Simply put, aging well starts in your own kitchen.
What can I cook with items from my senior food box?
First, the good news: the CSFP only provides foods that comply with MyPlate—the USDA's guide to healthy eating. Each commodity food item in your monthly box falls under one of MyPlate's five recommended food groups, which means the building blocks for nutritious meals are at your fingertips.
Now, the better news: your possibilities are virtually endless. From a hearty bowl of vegetarian chili to a light chicken-and-pasta dish, from a tasty vegetable salad to refreshing fruit pops, your CSFP box offers many of the key ingredients you need to create these meals and more. With a little creativity and not too much effort, you can make a variety of:
Salads
Soups
Main dishes
Sides
Desserts
Snacks
Need some inspiration? Get started with the USDA's recipe gallery for older adults.
How do I cut down a recipe without ruining it?
Finding a recipe you like is one thing. Making it work for one person is another. If the thought of doing the math sends you scurrying to the prepared foods aisle, it doesn't have to. With help from a basic kitchen conversion chart, you can hold onto your favorite meals—and your sanity!
Many of these charts are free and available online to bookmark or print out; some are specific to dry or wet ingredients. But cutting down a recipe doesn't need to be complicated. Try one out today using this quick reference card (courtesy of Taste of Home):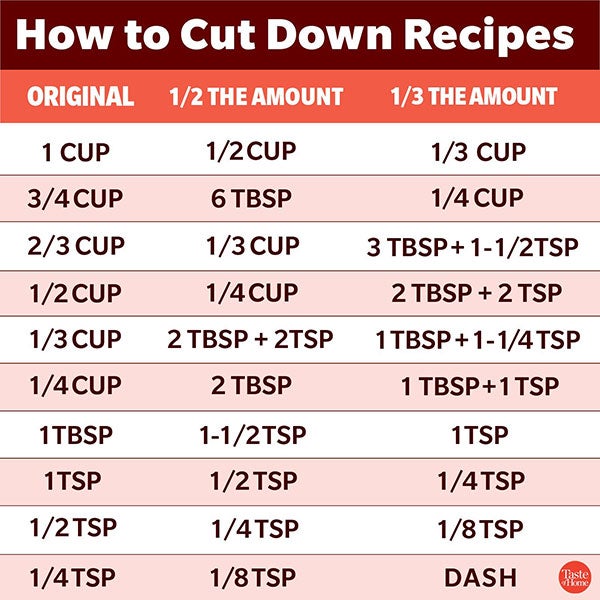 "It's also helpful to keep in mind that a recipe truly is a suggested starting point," Vafiadis said. "Unless you're baking, which can be more science than art, you won't 'ruin' a recipe if you add a little less or a little more of an ingredient than it calls for. Don't be afraid to taste as you go."
Sample Senior Food Box Program recipes
With the exception of breakfast, each of the below sample recipes yields 2-6 servings. In the sections below, you'll discover ways to cut these recipes down, repurpose leftovers for new meals, and freeze extra portions for another time.
Breakfast: Overnight Oats with Fruit (serves 1)
Ingredients:
½ cup quick-cook (instant) rolled oats
½ cup shelf-stable milk (refrigerated works great too)
Raisins, unsweetened (optional)
Canned mixed fruit (optional)
Directions: Combine the oats and milk in a bowl, jar, or other container and place them in the refrigerator for at least 8 hours. In the morning, top with a handful of dried raisins or a few spoonsful of mixed fruit and enjoy.
Lunch: Mediterranean Pasta Salad (serves 4 to 6)
Ingredients:
(1) 16-oz box pasta (macaroni or rotini)
½ can tuna (6 oz), drained and flaked with fork
½ can diced tomatoes (8 oz)
½ can low-sodium spinach, drained
½ cup light salad dressing (Italian works well)
Directions: Prepare pasta according to package instructions. When cooked and strained, combine it in a large bowl with the remaining ingredients and mix well. Refrigerate until cold or for at least one hour. (Canned olives, diced red onion, and chopped green or red peppers make good additions if you have them on hand.)
Dinner: Beef and Vegetable Stir-Fry (serves 2)
Ingredients:
½ cup long-grain rice (brown or white)
1/3 package beef (8 oz)
1 can mixed vegetables
1 tsp. cooking oil
Soy sauce (low-sodium) to taste
Directions: Cook the rice according to package instructions. In the meantime, heat the cooking oil in a skillet; add vegetables and beef, stirring until hot. Serve over rice and season with soy sauce to taste.
More helpful cooking-for-one hints
Learning to adapt recipes is a great start when it comes to making your own meals—but you can adopt other strategies, too. In fact, "cooking for one" doesn't have to involve cutting down a recipe at all. Here are some other ideas you can try:
Plan ahead. Take inventory of what's inside your monthly food box soon after you get it. Compare it to what you already have in your cupboards, refrigerator, and freezer, and begin brainstorming what sorts of meals you can make with the ingredients you already have on hand. Sketch out a basic menu for the week and remember: you don't have to make a different dinner every night. Cook once, eat twice (or more!) when you plan for leftovers.
Build meals around repurposed ingredients. Sometimes, it's more practical and convenient to make a bigger meal: a full pot of chili; an entire pan of chicken and vegetables; a box of macaroni with ground beef and tomato sauce. You can make good use of those leftovers and prevent boredom by creating new dishes from the extra portions. And because you've done most of the work up front, you'll save time on these other meals, too. For example:

Turn your chili into shepherd's pie by layering mashed potato on top.
Wrap some chicken and vegetables into a tortilla for a healthy lunch. Add cooked rice, beans, cheese, and some salsa for a heartier meal.
Heat extra pasta, beef, and tomato sauce in some vegetable broth for a tasty soup.

Freeze extras. Many recipes, especially soups and casseroles, keep well in the freezer. Consider making larger meals when you have the time and energy, then dividing them into individual portions as homemade freezer meals you can enjoy later. Check out this site for information on how long different foods will stay fresh and safe in or out of the freezer.
I don't currently receive CSFP benefits. Where can I find a Senior Food Box Program near me?
The USDA authorizes all 50 states, the District of Columbia, Puerto Rico, and several Indian Tribal Organizations (ITOs) to operate the Commodity Supplemental Food Program—though not all of them do. Use the USDA's contact map to check availability in your area.
Do you sometimes struggle to buy groceries, despite participating in the Senior Food Box Program? Are you concerned about your food security overall? NCOA is here to help. Learn more about the food assistance programs by using our free, confidential BenefitsCheckUp to uncover additional financial resources to help you pay for other basic essentials.